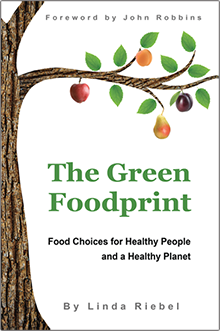 Read the Book!
Millions of citizens realize that their food choices can help or hurt the earth. But with so many decisions to make, how can busy people navigate all the possibilities? How can they turn their food footprint into a green "foodprint"?
The Green Foodprint is a concise, practical guide through the new world of sustainable food, full of inspiring facts and true stories. For a wide audience, the book highlights positive changes and the power of citizens. The Green Foodprint distills a wealth of information into a practical guide that helps any reader navigate the new world of sustainable food. Foreword by John Robbins, author of the Food Revolution and Diet for a New America. It also provides you with everything you need to know about becoming an earth friendly eater.
How can you green your "foodprint"? Find out more… Read an excerpt
Buy the Book     |     Buy the Kindle Version     |     Buy the Nook Version
Praise for the Green Foodprint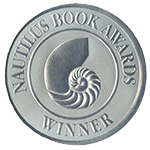 2013 Nautilus Book Award Recipient, Silver Award
2012 Indie Book Award Finalist The Green Foodprint was named a 2012 Next Generation Indie Book Awards Finalist in two categories (Science/Nature/Environment and Current Events/Social Change).
"Advocating a more natural diet, The Green Foodprint is a strong addition to general health and wellness collections, as well as for environmentalists. Highly recommended." The Midwest Book Review
Linda Riebel offers her readers a highly accessible and judgment-free book that helps newcomers to the world of sustainable food with easy-to-follow guidelines. Whether your motivation is saving the planet, improving your health, or just eating in line with your values, this book will help you get there. Michele Simon, JD, MPH, Author of Appetite for Profit: How the Food Industry Undermines Our Health and How to Fight Back
More Praise for the Green Foodprint     |     Sources for the Book
© 2016 The Green Foodprint. All Rights Reserved.