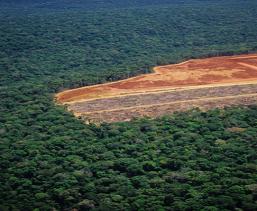 You probably knew that rainforests are in deep trouble, and that our food choices are part of the problem. Palm oil is a major culprit, since in countries like Malaysia and Indonesia, forests are being cut down to make room for palm oil plantations. Not only the forests, but creatures that live in them are endangered, including orangutans and rhinos.
Not to mention that the palm oil mill pollutes twice as much water as every unit of palm oil produced..
World Wildlife Fund, in its current newsletter, points out "To make noodles "instant," manufacturers flash-fry them in palm oil to evenly dry the strands—a process that links instant noodles to environmental damage because the production of palm oil is one of the leading drivers of deforestation."  One more reason to let go of processed foods as much as you possibly can!
There are two eco-labels that might help. WWF supports them, while RAN thinks they're insufficient. Anyway, here they are. Roundtable on Sustainable Palm Oil (RSPO.org) began in 2001 when World Wildlife Fund proposed it, and was formally launched in 2003, based in Switzerland.  It's a pretty complicated consortium of organizations from many countries that sign an agreement to support sustainability in the palm oil supply chain.
Green Palm is a subsidiary of a British oil importer and manufacturer. It has an interesting plan. Enterprises that produce certified sustainable palm oil can register their product with Green Palm. Then it seems they can sell their certificates. Is this like carbon cap and trade credits? Go here and see what you think.
Of course, by reading labels you can also avoid palm oil altogether. This may not be easy, since the stuff is everywhere. According to the Rainforest Action Network it can be found in "ice cream, cookies, crackers, chocolate products, cereals, breakfast bars, cake mixes, doughnuts, potato chips, instant noodles, frozen sweets and meals, baby formula, margarine, and dry and canned soups." Go here for more info.
Related links:
The Problem with Palm Oil
Norway Cuts Palm Oil Consumption 64% in One Year
How to Stop Buying Palm Oil and Help Save the Orangutans